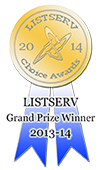 FundSvcs wins Grand Prize in LISTSERV Choice Awards 2013-2014
AASP's official LISTSERV, FundSvcs, is the grand prize winner in the 2013-2014 LISTSERV Choice Awards, a program by L-Soft International.
The LISTSERV Choice Awards, also known as The Mailys, has been running since 2004. It is the only industry-wide, international recognition program, honoring the most interesting, creative, innovative or exemplary usage of LISTSERV mailing list technology. Anyone can nominate, and all LISTSERV mailing lists are eligible, including announcement lists, email newsletters, discussion groups, and email marketing campaigns.
After open voting from September 2013 to January 2014, FundSvcs was selected from a slate of five finalists to win the 2013-2014 grand prize.
Continue reading on the AASP website.
AASP & FundSvcs
Whether you're a long time FundSvcs subscriber or just joining us for the first time, this is the location to join active community discussion on the topics you deal with in your work as an advancement services professional. By linking to AASP, you'll also have access to the tools you need to succeed in the field. AASP empowers advancement services professionals by encouraging idea sharing and best practices among its thought leaders.

AASP: FAQ's
Who we are: AASP is the authority in the advancement services profession
What we do: Serve the non-profit community with leadership and passion
Who can join: AASP membership is open for newcomers to the profession as well as individuals who have established careers in Advancement Services.
What's the cost of membership: $95
What are the benefits of membership: AASP provides programs and resources aimed to keep members informed and up-to-date on all technologies and services. Click here to read about the AASP Member Benefits.
What you'll experience: The flagship event, AASP Summit, each year brings together hundreds of dedicated Advancement Services professionals for information sharing, networking, and education. Throughout the year, a calendar of professional development programs, programs with partner organizations, informative newsletters, best practice publications and other activities help members keep their finger on the pulse of Advancement Services.
To become a member, click Join AASP.